This article was submitted by Wanda Gerard, Chapter Marketing Chair.
Although Mother Nature provided us with cool temperatures and a drizzly rain for most of the evening – the National Night Out event for 2021 was successful! Eight chapter Ikes supported the event so that citizens of Suffolk for the King's Fork area could learn about our organization.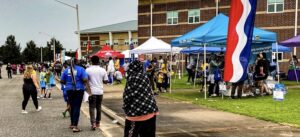 We heard several people say they've lived in this area for over a decade and had never heard about us! Several flyers were handed out that explained the organization and directed them to our website for further information. Keep your fingers crossed that perhaps a few will check us out and consider joining.
The caterpillar making activity was a success with the young kids that stopped by; several more wanted to stop by but their parents were in too much of a hurry to let them enjoy a DIY craft. The only things purchased for this activity were pipe cleaners – which were used in addition to Styrofoam egg cartons and pieces of foam. The smiles that we saw as a child finished making their caterpillar are good memories for those who volunteered. I hope you agree with me – children need to have some time in their lives to allow creativity to happen – and this activity allowed that (and of course a real caterpillar will turn into a beautiful butterfly.)
I would like to thank Chapter Ikes Bruce Kliché, Priscilla Taylor, Marshal Knox, Jennifer & David Wood, Johnathan Echols and Jody Sykes for volunteering. – Wanda Gerard