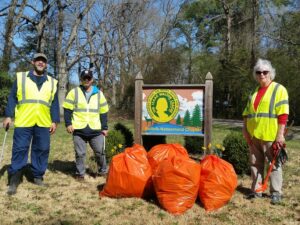 On Saturday, March 27th, the chapter participated in the Hampton Roads area clean-up. The event was hosted by Hampton Roads in partnership with Keep America Beautiful and askHRgreen.org. The chapter chose to clean-up along Kings Fork Road from highway 10 to Providence Road. This is the section of Kings Fork Road that the chapter adopted in association with the City of Suffolk's Adopt-a-road program. Fourteen chapter volunteers managed to collect 20 bags full of trash during the three hour event. The bags were stacked near the entrance of our chapter park to facilitate the city's Public Works Department pick up and disposal.
In addition to the road clean-up effort, several other chapter volunteers spent the morning working to repair road ways in the park. Several pot holes along with an area that was eroding were filled in. Work also continued on the dam clearing project. Several tree stumps, logs and brush, that had been previously cut down, were removed and stacked for future disposal.
Even though volunteers had to maintain social distancing, many of them said they enjoyed the work and the chance to get outdoors. It was an opportunity to get to know some of the newer members and to see members that, in some cases,  had not seen each other in over a year due to the COVID-19 virus restrictions. The chapter thanks those members who participated in the days events and appreciates their time and effort. Everyone is looking forward to future member events as the COVID-19 restrictions begin to ease.