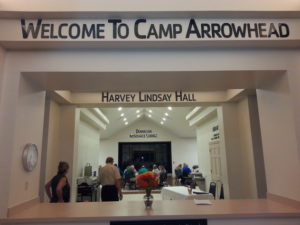 The Chapter's annual banquet was held on September 20, 2017 at the Camp Arrowhead YMCA. The 58 Chapter members, spouses, family and friends who attended enjoyed a delicious ham and turkey dinner with all of the trimmings. The festivities included presentation of the Chapter Tobin Award and the IWLA National Save our Streams Award.
There is only one Tobin Award given in each chapter each year. The award recognizes the Chapter's most outstanding and dedicated volunteer for contributions made throughout the year. Ricky George, IWLA National Director-Virginia Division and Chapter member, attended the banquet and presented our Chapter's award to Chris Ferguson.
Chris joined our Chapter in 2013. He consistently participates in our Chapter's conservation projects and outdoor projects such as our bi-annual park maintenance day and Adopt-a-Road program. Although Chris enjoys the outdoors he also demonstrates his commitment to our Chapter through his participation in the annual Pancake Supper fundraiser and ticket sales for our scholarship fund raising raffle. Chris is currently serving as a member of our Board of Directors and has served since 2015. Chris stepped up again when the chapter needed a Shooting Sports Coordinator. He volunteered for the position and organized two member shooting events. He not only organized the events but established classes, established the requirements to qualify in each class but also acted as range master for one of the events. Chris was unable to attend one of the events due to some health problems but he had things organized so well that another chapter member was able to step up and following Chris' plan, executed the event. Even though Chris has a full-time job, he always gives his all in support of the Chapter.
After the Tobin Award presentation, Ricky George explained the IWLA National Save-Our-Streams Awards. There is a maximum of three awards presented each year. The awards recognize individuals, groups or organizations (members or non-members) judged to have done outstanding work in demonstrating the principles of environmental education and citizen activism for clean water during the past year. Ricky presented a 2016 National Save Our Streams Award to Tim Doxey. Ricky had accepted the award on behalf of the Chapter at the 95th Annual IWLA National Convention.
Tim has been a Chapter member for 6 years and is currently a member of the Board of Directors. He also serves as chairman of several Chapter committees. As the Save-Our-Stream chairman, he planned and coordinated two Nansemond River Cleanup events in 2016. Working in conjunction with the Virginia Department of Conservation (DCR), the chapter has adopted a section of the Nansemond River. A DCR Adopt-a-Stream sign has been installed for our Chapter at the public canoe/kayak launch in downtown Suffolk. Working with the Nansemond River Preservation Alliance and members of the general public, the number of volunteers for the second cleanup almost doubled.
(On a personal note, I was surprised, humbled and truly honored to receive this award. Even though the award has my name on it, the award is genuinely a Chapter award. None of the work that was accomplished could have been done without the work of many members of our Chapter who gave up their Saturdays to pick up other people's trash.)
As tradition would have it, our Scholarship Fund raffle drawing was conducted later in the evening. Joyce Dugan, with help from a young Ike assistant, drew the winning tickets. Congratulations go to Orvid Stimpson (first place, Yeti cooler), Rob Carpenter (second place, flat screen TV), Joyce Black (third place, gas grill) and Gregg Young (fourth place, one night at Hilton Garden Inn).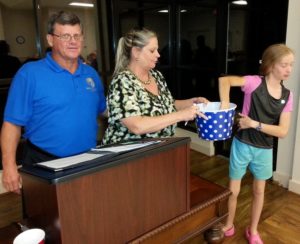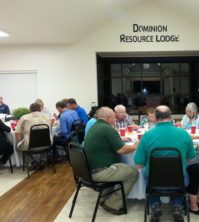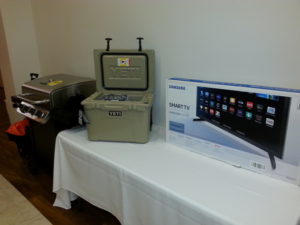 Following another tradition, at the end of the evening Wanda Gerard graciously presented gifts to all women present at the banquet. Several members commented as the evening wrapped up that it had been an enjoyable night complete with good fellowship and food at a very nice venue. And no one had to stay to sweep or mop the floor!