Submitted by Chris Ferguson, Shooting Sports Coordinator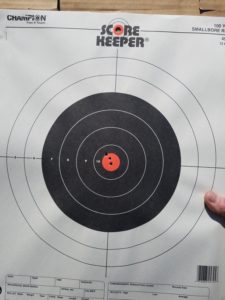 February 24th dawned bright and clear, after some wild weather to start 2018, Mother Nature smiled upon us. David Perdue kicked off the safety brief by displaying his first aid bag with the admonition "don't make me open this!" A formal safety brief followed and soon we were shooting. We had four volunteers to assist; David Perdue, Syndney Barteau, Bob Marchant and Ray Powell. Each volunteer earned an hour toward their annual service requirement.
There was a wide variety of weapons in use, from an open sighted M1 to a scoped hand gun to a couple of bi-pod and scope mounted bolt actions. There were two ranges, 50 yards with open sights and 100 yards, open sights and scopes. We also had a prospective member shoot as a guest. The event, with two classes only took an hour, so we can open this event up to more shooters next year.
50 yard- 1st Tim Bond (guest), 2nd Chris Ferguson, 3rd Darden Langston
100yard- 1st James Anderson, 2nd Chris Ferguson, 3rd Darden Langston
These events continue to be fun and a great source of comradery, members are encouraged to come out. There is no truth to the rumor that Tim will not be allowed to shoot at the next event.
This slideshow requires JavaScript.