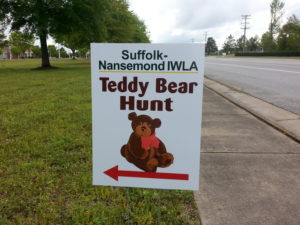 The chapter hosted our fourth annual Teddy Bear Hunt on Saturday, April 28 at the Chapter's park. 50 children ages 3 to 10 preregistered for the event. The hunters were accompanied by their parents, grandparents or other family members. This was the first year that demand for "hunting licenses" exceeded the number of bears in the woods. Unfortunately, as a result, some would-be hunters were unable to preregister this year.
The morning began with sounds of laughter and excitement as the hunters and their families hopped onto the hay rides that took them from the parking area into the park. After obtaining their "licenses" and receiving a safety briefing, everyone set out to hunt those elusive teddy bears. When the brave hunters returned with their "bagged" teddy bears, everyone enjoyed lunch by the pond. The afternoon was filled with fishing or archery. Chapter "fishing buddies" accompanied some of the lesser experienced anglers as they tried their hand at fishing. Other hunters went to the archery range to work on their marksmanship.
While there is a nominal fee for the hunting license, this event is not a fundraiser for the Chapter. The teddy bears for the event were donated by Parson's Company. The purpose of this event is to connect kids with nature and for families to enjoy the outdoors together. If big smiles and "bear hugs" are any measure, the event was a big success. The Chapter's Youth Program Coordinator has already received telephone calls thanking the chapter for a putting on a great event and that they can't wait until next year!
This slideshow requires JavaScript.