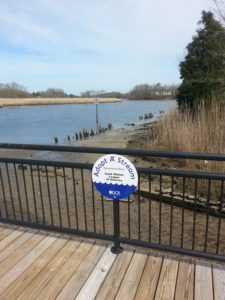 Last Saturday, March 25th, I took advantage of the warmth and sunshine to walk our adopted section of the Nansemond River in preparations for the upcoming clean up event on April 1st. I was somewhat surprised by the amount of trash that has accumulated since our last cleanup. Believe me, we'll have plenty to do next Saturday morning.
The city of Suffolk's Public Works Department installed our sign at the new canoe/kayak launch at the marina located behind the Hilton Garden Inn. Even though the Virginia Department of Conservation and Recreation is no longer supporting the Adopt-A-Stream program due to state budget cuts, we will continue our river clean up efforts. We are in the process of looking for other sponsors and organizations who are willing to assist us with cleanup equipment and materials. The city of Suffolk has  agreed to see what they can do to help support us.
If you haven't had the opportunity to check out the new launch facility, you really should take the time to do so.  It's a great facility and will also make launching our canoes much easier for future clean up events. When you go make sure you check out our sign too!