The Virginia Division of the IWLA presented to our Chapter an efficiency award, including a commemorative plaque shown below, at the 2016 IWLA Division meeting.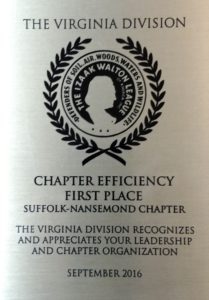 The evaluation criteria for winning this award included level of participation at National conventions and division meetings, existence of balanced  budgets, performance of internal audits, timeliness/frequency of Treasurer's reports, member particiation levels in Chapter activites, a sustained or increasing membership headcount, distribution of newsletters, etc.
This award is a testament to the leadership, stewardship, and wisdom of our Chapter Executives and Board of Directors as well as the hard work by all our Chapter members who participate in the various activites/events we hold throughout the year.
On behalf of our entire Suffolk-Nansemond IWLA Chapter membership, we thank the VA National division for this award!