Welcome!
The Suffolk-Nansemond Chapter of the Izaak Walton League of America, chartered in June of 1954, is a 501(c)(3) non-profit organization dedicated to the conservation, maintenance and protection of the soil, forest, water, and other natural resources of the city of Suffolk, VA and surrounding areas; and to promoting means and opportunities for educating the public about their enjoyment and wholesome utilization.
We are proud of our Members' accomplishments and encourage you to take a few moments to browse this website at your leisure to find our more about our Chapter.
Below we show awards that were presented at our most recent annual Chapter Banquet dinner meeting held on September 20th, 2017 at Camp Arrowhead YMCA, Suffolk. For more information on these two awards, and to see other photos of Chapter Ikes taken at the Banquet, see the news article entitled September 2017 Banquet and Awards Presentation.
---
Chapter Tobin Award
There is only one Tobin Award given in each chapter each year. The award recognizes the Chapter's most outstanding and dedicated volunteer for contributions made throughout the year.
At the September 2017 Banquet, Ricky George, IWLA National Director-Virginia Division and Chapter member, presented our Chapter's Tobin award to Chris Ferguson. Chris joined our Chapter in 2013. He consistently participates in our Chapter's conservation projects and outdoor projects such as our bi-annual park maintenance day and Adopt-a-Road program. Although Chris enjoys the outdoors he also demonstrates his commitment to our Chapter through his participation in the annual Pancake Supper fundraiser and ticket sales for our scholarship fund raising raffle. Chris is currently serving as a member of our Board of Directors and has served since 2015. Chris stepped up again when the chapter needed a Shooting Sports Coordinator. He volunteered for the position and organized two member shooting events.  Even though Chris has a full-time job, he always gives his all in support of the Chapter.

IWLA National Save Our Streams (SOS) Award
There is a maximum of three of these National awards presented each year. The awards recognize individuals, groups or organizations (members or non-members) judged to have done outstanding work in demonstrating the principles of environmental education and citizen activism for clean water during the past year.
At the September 2017 Banquet, Ricky George, IWLA National Director-Virginia Division and Chapter member, presented Tim Doxey with the 2016 IWLA National Save Our Streams Award.  Prior to this, Ricky had accepted the award on behalf of the Chapter at the 95th Annual IWLA National Convention held in June, 2017.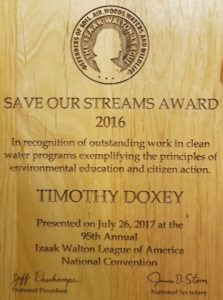 Tim has been a Chapter member for 6 years and is currently a member of the Board of Directors. He also serves as chairman of several Chapter committees. As the Save-Our-Stream chairman, he planned and coordinated two Nansemond River Cleanup events in 2016. Working in conjunction with the Virginia Department of Conservation (DCR), the chapter has adopted a section of the Nansemond River. A DCR Adopt-a-Stream sign has been installed for our Chapter at the public canoe/kayak launch in downtown Suffolk. Working with the Nansemond River Preservation Alliance and members of the general public, the number of volunteers for the second cleanup almost doubled.

---
(To browse through Chapter awards from previous years in chronological sequence, filter on the Awards category from the News articles submenu.)