Welcome!
The Suffolk-Nansemond Chapter of the Izaak Walton League of America, chartered in June of 1954, is a 501(c)(3) non-profit organization dedicated to the conservation, maintenance and protection of the soil, forest, water, and other natural resources of the city of Suffolk, VA and surrounding areas; and to promoting means and opportunities for educating the public about their enjoyment and wholesome utilization.
We are proud of our Members' accomplishments and encourage you to take a few moments to browse this website at your leisure to find our more about our Chapter.
Below we show awards that were presented at the most recent Chapter Banquet dinner meeting.  To see more Chapter awards from previous years, filter on the Awards category from the News articles menu.
At the most recent Chapter Banquet Dinner meeting, IWLA National Director-Virginia Division, Pam Meara presented our Chapter's Tobin Award to Ricky George, Chapter (past-President, National Director-Virginia Division, and our Chapter's Youth Program Coordinator).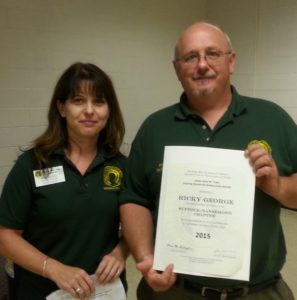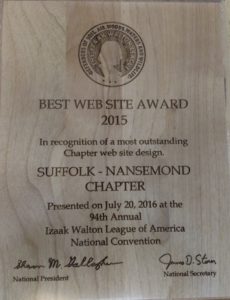 Ricky George, in his capacity as National Director-Virginia Division, presented the IWLA National award for Best Web Site to Ray Powell, who received the award on behalf of our Chapter in his capacity as Webmaster and Chapter President.
Our Chapter received an efficiency award in September, 2016 along with a commemorative plaque, shown below.  For more information about the evaluation criteria for this award, see the 2016 Chater Efficiency Award news article.